Chancellor's Message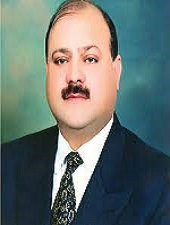 Barrister Sultan
Mahmood Chaudhry

Women University of Azad Jammu and Kashmir, Bagh, has a special place in the higher education landscape. It is the first women's university in AJK imparting education to graduate and post-graduate students in cutting edge disciplines.
Over the years, because of the growing literacy rate amongst girls in AJK, the number of women who desire to go into higher education is increasing. It has been their natural aspiration that they should have a dedicated women's higher education institution. The Women University of AJK fulfils that demand.
Having started its journey in 2014, the University is still in a fledgeling stage but, despite initial difficulties it has managed to make impressive strides in both quality education and academic excellence, thanks to the hard work of the faculty and students. Right now, we realize that one of the weakest areas of the University is inadequate infrastructure. Earnest endeavours are being made to fill this gap so that we can create a salutary environment for classrooms, laboratories, auditoriums, staff rooms, hostels and sports facilities.
I have personally witnessed many activities organized by students and teachers on the University campus. The outstanding performance of these students has deeply impressed me. The University has produced some of the best debaters and declamation contestants. It has also hosted job fairs, seminars, sporting events and exhibitions. The University students are being encouraged to correlate their academic qualifications to the job market and to the emerging technologies.
I believe that in future this institution would play an important role in the economic, scientific, technological and industrial development in the State of Azad Jammu and Kashmir. I especially commend Prof. Dr. Abdul Hamid, Vice Chancellor, who is making earnest and resolute endeavours to move the university towards higher thresholds in quality education. Besides, organized efforts being made, under his stewardship, to stimulate market-oriented learning, research and innovation would prepare the ground for fostering future leadership.
I congratulate the Vice Chancellor, faculty, administration and students for their remarkable achievements.
This is however not the time to sit on our laurels. The destination is far and the goals very high.
I, therefore, hope that the University would demonstrate more diligence to produce students who are competitive, not only at the national level but across the region. Let this University create many centres of excellence.
I wish you more success.