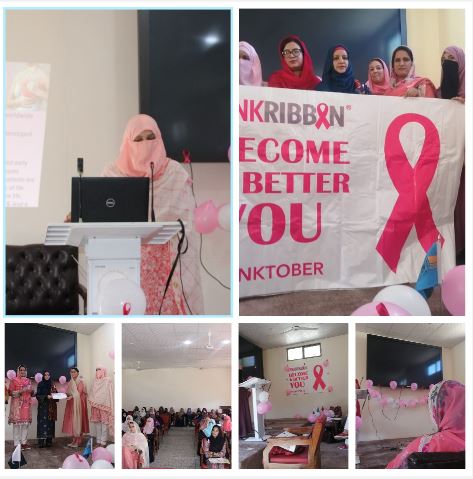 Pink Ribbon Day 2023/10/19
The Campaign related to Pink Ribbon day was arranged by Zoological Society under the supervision of Director Student Affairs in Youth Development Centre on 19 Oct 2023. The main purpose of this campaign was to create awareness about most spreading disease (Breast Cancer). Campaign was consisted on an awareness sessions and awareness walk.
The session started with the recitation of few verses from Holy Quran and Naat. Dr.Shazia Khatoon, Director Student Affairs gave opening note. Whereas, Dr.Khola Alam, Lecturer from Allied Health Science, Dr. Sadia Nazar, Assistant Professor from Zoology Department and Mrs. Rabia Shafique, Lecturer from Zoology Department presented briefly about Breast Cancer to the participants. They described prevalence, diagnosis, preventions and treatments of Breast Cancer.
Mrs. Madiha Rasheed Lecturer from Department of Biotechnology also delivered her speech about the disease. She emphasized on patient's encouragement.
Chief Guest Dr.Tahira Batool, Controller of Examination in her concluding speech highly appreciated remarkable participation of the attendees on conducting a very important campaign on Breast Cancer. She also praised the work of organizers of the Event. Dr. Shazia Khatoon, Director of Student Affairs and Mrs. Faryal Qamar (Assistant YDC) for organizing this event in time. The certificates were distributed among participant at the end of session.
At the end of the session an awareness raising walk was organized.